BAD STUNT: Nince Henry apologises to fans for claiming he is 'starving'
"First of all, let me apologise... because, in hindsight, I have realised what I did wasn't right. Telling people that you need help, yet you don't, is not good, and people shouldn't do it," Henry said while speaking to Spark TV.
"But it's true that I had a car that I bought from a friend last week, but I realised I need to sell it because I need my money. But the car is of Benz brand and those cars don't easily get buyers... so, I was like, let make a public post and share my number so that people can call and we negotiate. I thought it would attract potential buyers, but the way I structured the post, it came off a different way becuase people called and they were willing to help," he went on.
"So, I apologise for that. But the good thing, the number we used is not on Mobile Money... so it's not possible to send there money... so, even if they send the money, it will bounce because the number is not registered, but I apologise for that."
On musicians, he said: "Musicians are good people... and I'm among people that have no issues with fellow artistes. They have never done anything bad to me. Artistes... no. I have never wanted anything from an artiste and they didn't give it to me... and I'm also always willing to help... So, bascially, that post was out of context... so, I apologise."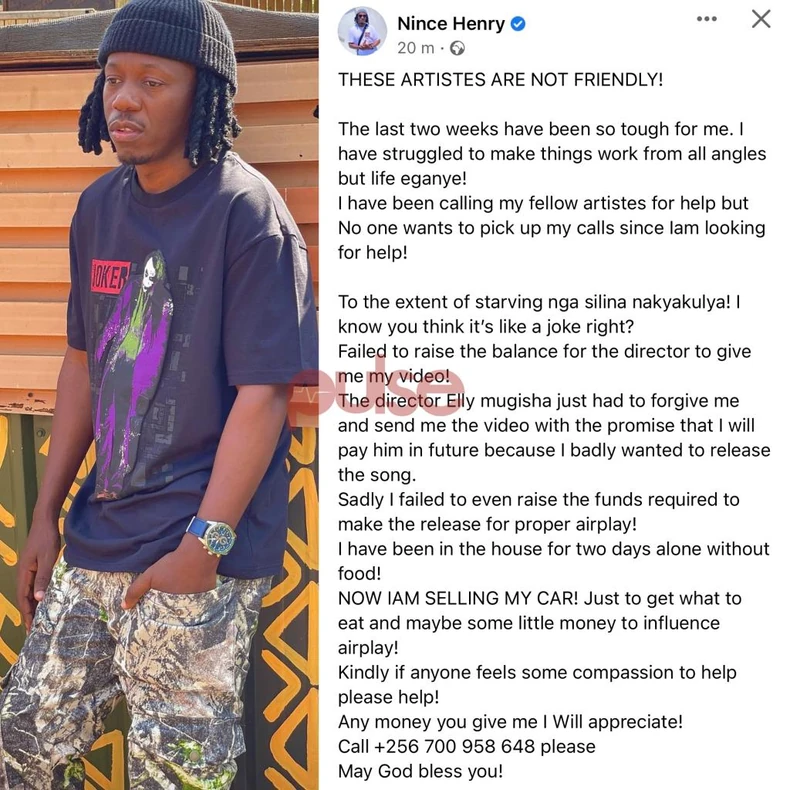 Some in the industry like Deejay Crim, real name George Agaba, already called him for pulling such silly stunts.