Buganda Land Board, FIDA-Uganda to help venerable women acquire land titles
Buganda Land Board, FIDA-Uganda to help venerable women acquire land titles
Few women enjoy secure rights to the land they till.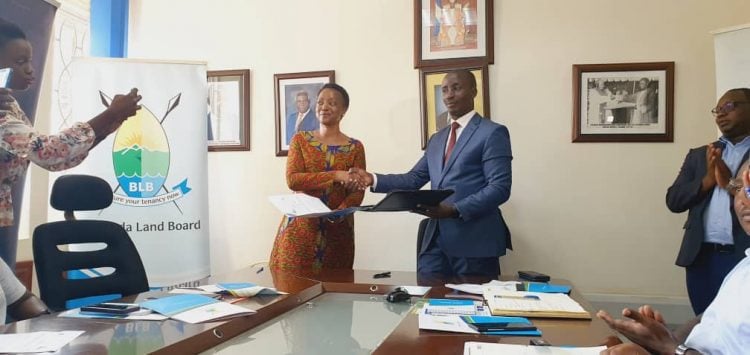 Buganda Land Board (BLB) and FIDA Uganda are joining hands to help women in the central region acquire full rights to their land.
The two entities made the announcement as they unveiled a Memorandum of Understanding (MOU) to work together.
The programme is set to begin rolling out in the greater Luweero territory before spreading out to the rest of the kingdom.
The vulnerable groups include, widows, elderly women, women led families, women in far reaching areas, women living with HIV among others.
Representing 80% of the agricultural labour force in Uganda, women carry out most of the agricultural work producing up to 80% of food and cash crops.
Despite their essential contributions to the national economy, only few women enjoy secure rights to the land they till.
In fact, with control and ownership of land mainly concentrated in the hands of men, most women are crucially dependent upon male family members for access to land.
Through the MOU, the two entities shall mutually work together and leverage each other's expertise to support vulnerable women to register their interests on land and acquire certificates of title under land managed by the board.
The two entities shall also through their respective areas of operation collaborate to undertake interventions including the dissemination of legal information on land justice and address the legal disputes that arise through formal and informal legal systems.
Officials said that the partnership also presents a framework through which the two institutions are able to ensure gender responsive practices in the land structures and administration including the Buganda Kingdom Local Government structures for instance the Abatongole', ab'Emiruka, ab'Amagombolola 'Abamasaza 'and BLB officials.
During the signing of the MOU, the Chief Executive Officer of BLB Simon Kabogoza explained that the main intention of the partnership with FIDA Ugandan is to ensure some of the above issues affecting the women are addressed.
"We have worked with them (FIDA Uganda) before to improve the wellbeing of communities and feel it was prudent to have this partnership formalised,"he said.
Highlighting the importance of formalising this partnership, Kabogoza said, "This MOU will not just run for 2-3 years, this partnership is necessary enough that we have made it open ending, so we may continue working on this issue without constraints."
Lillian Byarugaba Adriko, the Chief Executive Officer of FIDA Uganda noted that the agreement lays fertile ground for the development of mechanisms which will assist women and marginalised groups struggling to secure land tenure."
The two institutions have expressed confidence that the partnership presents a fertile ground for both partners to support vulnerable women in strengthening security of tenure but also for cross learning among the institutions.