Spice Diana is not my friend, she is just colleague in the industry, says Sheebah Karungi
Music sensation, Sheebah Karungi has finally come out to clear air about her relationship with the singer Hajara Namukwaya alias Spice Diana which has been shaky for the past few years amidst verbal exchange of words among their fans.
For a long time, Karungi had declined to speak about the ongoing alleged beef on social media between the two .
The duo is currently ranked among the best female singers in the country. The beef is believed to have been fueled by their respective fans; "Sheebaholics" and "Spice Gadgets."
While appearing on NSB Uncut, Karungi explained that Spice Diana has never been her friend but she has been supporting her through attending her events because she is a colleague in the industry.
"I don't have time for nonsense and I have a lot of things to do. For me I am always real, so I don't know about other people. I don't interfere in the fight between fans. This fight is between fans. So, this fight is between the singer (Spice Diana) and the fans, let them battle out because I don't have that time," she said.
She explained in the entertainment industry, there is always mutual respect between colleagues and it is very fine to support one another.
"There was only mutual respect and understanding between me and her. You respect those that respect you. She disrespected me, yet I am her mentor. Friendship is different. I only supported her as a colleague and respect only comes when someone respects you. I can't tell how someone who disrespect a mentor feels," she said.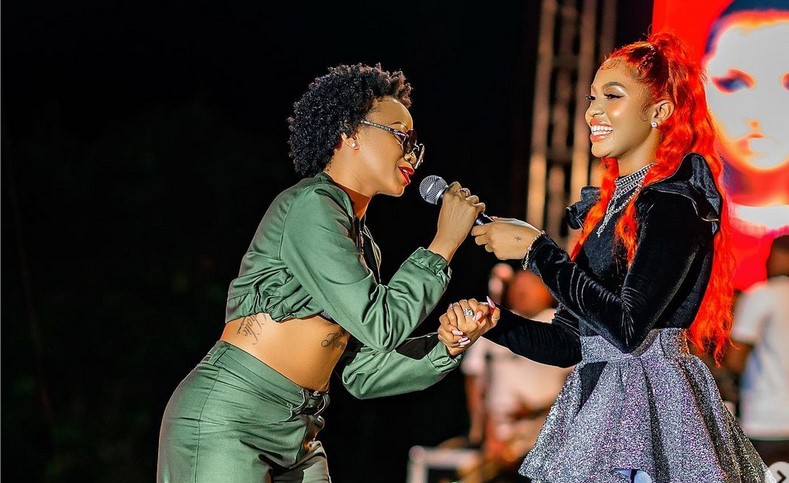 The misunderstanding between the duo escalated last year after a dancer commonly known as Ritah Dancehall, who was initially a mutual friend of the two singers, criticised Spice Diana's concert. This didn't go down well with the singer.
A few days later, the dancer was arrested and jailed and accused of malice, defamation among others.
Through her social media platforms, Karungi condemned the arrest and called for her immediate release.
"Weird Fact: When I posted the video of me and one of my favorite dancers, Ritah Dancell Wide, I had no idea what was happening (honestly, I am still in shock). I am sad that it had to get that far because I personally don't think it should have gotten that far. I still think there could have been a better way to settle this other than jail," she wrote.
"But then again, maybe that's just me. Let me make a phone call and see if there's any way we can solve this as mature people , kind, and respectful humans," she added.
The dancer was later released, and the fans of Karungi started hurling insults at Spice Diana accusing her of being a fake friend. The singer responded by unfollowing Sheebah on Instagram, and deleting the photos she had taken with her.
However, in May 2022, when Karungi attended Spice's "Star Gal" EP album launch at Cubana Lounge in Munyonyo, the public thought the two had buried the hatchet. The two hugged and revealed to the public that there was no beef between them.